The Talks
Here's a list of the invited talks/panels/plenary sessions/keynotes I've presented or participated in at conferences (click on the picture of the talk to download the slides).
One small caveat: whenever I give a talk, I don't read directly from the slides (boring!). They act as a springboard for the topic. As a result, "you have to be there" to get the full effect. If you have any questions about what actually gets said in any of these talks, or would be interested in hearing me present on any of these topics, please feel free to get in touch.
2001 (LISA Invited Talk)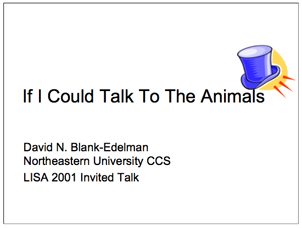 (3.3MB PDF)
Who, outside system administration, really understands our diagnostic processes and how to teach them to others?

Of all of the professionals in the world, a veterinarian must command diagnostic skills closest to those of a system administrator. After explaining this premise, this talk presents some of the concrete wisdom the much older veterinary profession has gained with an eye toward its application to our field. It concludes with an exploration of how vets are taught diagnostic skills and how we can apply those teaching techniques.
2002 (LISA Invited Talk)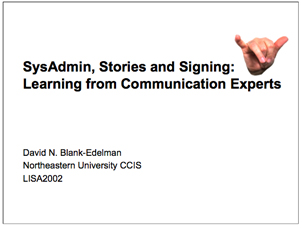 (6.7MB PDF)
To communicate effectively, you have to know how to tell a good story and how to speak someone else's language. With peers, sysadmins can use the model of storytelling to relate better and to understand the complex, multi-variate scenarios that make up our lives. With other species, such as users and managers, sysadmins can use wisdom gleaned from professional American Sign Language interpreters.

We will test these ideas by applying them to some difficult sample exchanges like those in my "Taxonomy of Useless Support Email Requests." Audience members will leave this talk with concrete tools to improve communication with peers, users, and managers.
2003 (LISA Invited Talk, PICC10 Keynote)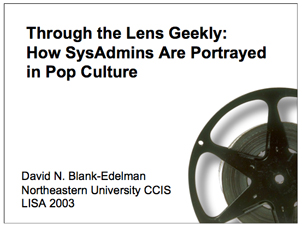 (4.0MB PDF)
People outside our profession think they know who we are and what we do for a living. They've formed assumptions about us and how we work even before they've met us, which in turn color their perceptions and shape their interactions with us.

To be effective we need to understand this context and its origins. A good portion of it comes from popular culture: movies, television, and other mass media. Movie clips and other source material will entertain you, and more important, give you new insight into just what ways much of the world views our profession.
2004 (LISA Invited Talk)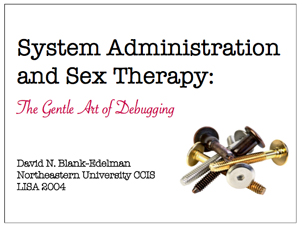 (16MB PDF)
Already debugged three things today and it's not even breakfast? You must be a sysadmin. Our life is chock full of debugging "opportunities." Not only do we have to fix problems in complex systems, we often find ourselves debugging the interactions between complex systems designed by other people.

To understand this process better and to get better at it, we're going to turn to an unlikely source of information: sex therapists, counselors, and educators. With their help, we'll explore why improving the interactions between complex systems when they go awry is so hard and what techniques and craft can be used to make the process easier. Come to this talk not for its mature subject matter, but for the chance to learn to be a better sysadmin through better debugging.
2006 (USENIX ATC Guru Session)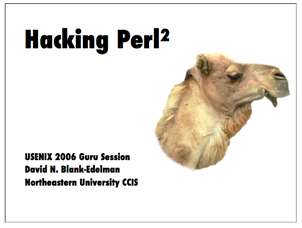 (1.6MB PDF)
In this session we'll be talking about the process of hacking Perl and the Perl hacks that can make working in the language easier. If you have a problem that you think Perl code may be able to address, stop by and he'll try to get you pointed in the right direction. Given David's background, expect a strong sysadmin bent to the session, but you are welcome to bring questions from any field and we'll give them a whirl.
2007 (LISA Closing Plenary)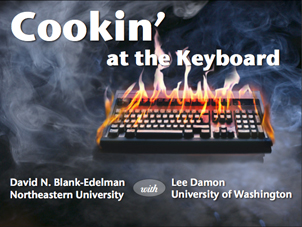 (19MB PDF)
There's a field in which people routinely:

Work well under pressure—improvising and showing great creativity even in the worst of situations
Create (repeatable!) multi-step procedures that integrate different components into cohesive systems
Document these procedures so that even total neophytes can understand them
Train other people to do the same

Nope, not system administration. Sysadmins only wish we could consistently do these things.

All of this stuff is taken for granted in the world of cooking. How the heck do they do it?

David and his lovely assistant Lee Damon will not only tell you how they do it, but will also show you some of how it is done. We'll take a highly entertaining romp through the cooking world to find the tools, techniques, and processes that can be applied to system administration. You'll never look at your food or your field in the same way again.
2007 (CHIMIT Panel)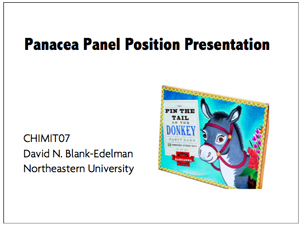 (2.4MB PDF)
Is Automation a Panacea for Management of Information Technology?

Automation of IT Management gained significant momentum in recent years. The promise is that it leads to reduced costs and improved quality of service by reducing error in tasks and leveraging best practices through automation. Often automation is considered a good thing but is it really panacea for IT management? This panel will examine questions around automation such as:

How can best practices be captured?
What is the feasibility of automation in dynamic IT environments?
What is the role of human intervention?
How should IT automation be integrated into the broader enterprise processes?
How to deal with scale issues? Is IT automation good for all kinds of shops, big and small?
Is it possible to have off-the-shelf automation? How about customization?
What is the impact of automation upon the IT Service Delivery organization?
Is IT management automation significantly different than other automation in other industries?
What is the role of HCI in automation design?
2008 (USENIX ATC Guru Session)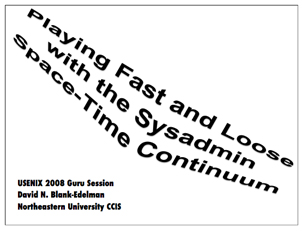 (1.2MB PDF)
Sometimes in the sysadmin world you get handed challenges that can't be dealt with using your standard approaches. Maybe the problem is too hard, complex, or off-the-wall to deal with in the usual manner. These situations call for an extra helping of creativity. Let's talk about how out-of-the-box thinking, creative and wacky solutions, and general mucking about with the rules can or have been applied to your sticky wickets. Bring your best problems and strangest solutions to share.
2008 (CHIMIT Keynote/Plenary)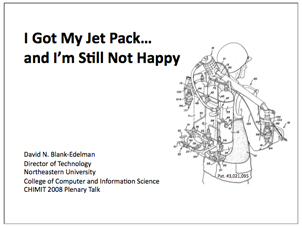 (13MB PDF)
Systems administration needs your help. Over the last twenty-four years or so I've watched the tools we've used just barely be able to keep up with the challenges of our field. New advancements in interfaces get promised, offered, adopted and then shed with nothing but temporary relief. In this "from the trenches" talk we'll look some of the challenges that have thwarted our best efforts. I'll also show you some of my puny attempts to poke at the beast from new directions and see if I can enlist your expertise in our battle.
2010 (LISA Invited Talk)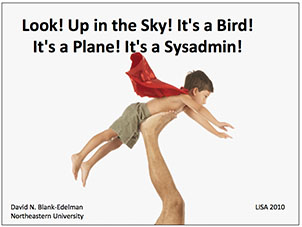 (38MB PDF)
Yes, it's a sysadmin—a somewhat strange visitor who might as well be from another planet, with powers and abilities far beyond those of mortal users.

That's you, right? So these powers and abilities—How did you get them? How did you figure out which ones you had? How have you honed them? How have you learned to cope with them and the responsibilities they brought?

I don't really believe sysadmins are superheroes just like those in comic books. But I do think that we are different from others in a similar way, complete with, yes, powers and abilities that often exceed those around us. Some of these powers we already have whether we know it or not and some we'll have to strive to develop. But all come with their own set of practical and ethical obligations.

For almost eighty years, American comic books have been mulling over just the sorts of questions you and I face each day we live as sysadmins, so why not look at what they have to say on this subject? In this talk we'll explore just what superpowers you really do have or could attain with just a bit of work. We'll also address some of the moral and ethical implications of being "super" you'll need to face as you progress in your sysadmin career. Sure, our time together will be entertaining, but it won't be all "Biff! Pow! Sudo!" If I'm right, you could take away a new sense of yourself as a sysadmin.